After the ALAT – Aviation Légère de l'Armée de Terre -, it is the French Air Force's turn to use its heliborne assets. As of April 1st, the French Air Force set up a plot of three Caracals and six crews of the EH 1/67 Pyrénées at the Villacoublay Air Base 107, south of Paris. Operations began just a few hours after the arrival of the machines, as two EC725s each transferred two Covid-19 patients from the Ile-de-France region from orly to Caen and Angers.
To keep up with the pace of the missions, the squadron will also operate the EC225, rented from RTE, for logistical purposes between the Cazaux base and the Villacoublay site. Two SA330 Puma from the EH 1/44 Solenzara should also reinforce the Paris operation in the coming days.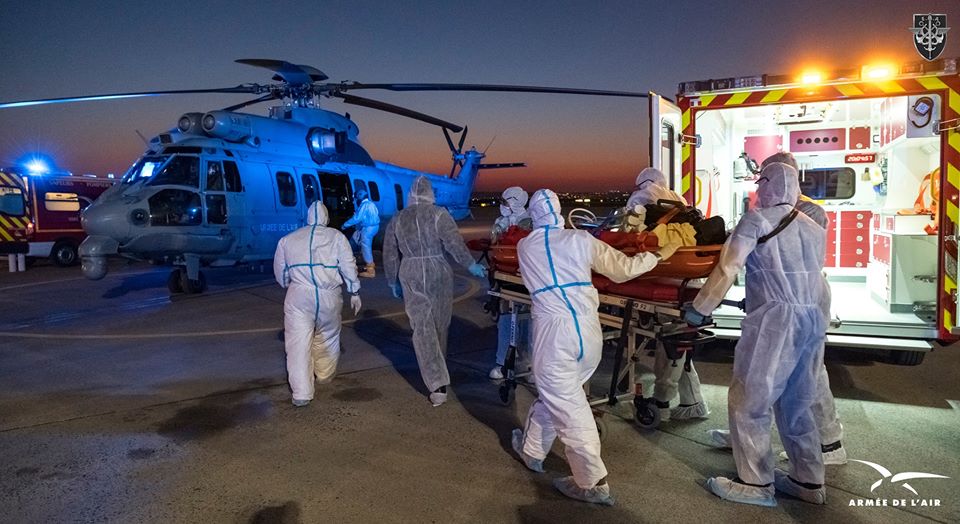 The request for reinforcements for this type of mission is in fact not really a surprise for the crews from the Pyrenees who have been preparing for several weeks to be put on alert for Covid missions of inter-hospital transfers. As soon as the virus became more powerful, the squadron and the CEAM – Military Air Test Centre – worked on the possibility of converting the EC725's hold into a medical "cluster", following the example of the modifications carried out on the Army's NH90. The hold, which houses the medical equipment, should not have any electronic interaction with the cockpit in order to remain fully autonomous. In addition, the crew should be separated from the rest of the hold by the installation of a protection system.
With this new mission, the human element should find itself particularly solicited on several fronts. Currently engaged in external operations, in particular for "special forces", the EH 1/67, which operates a total of nine EC725 Caracal aircraft, will also continue to maintain an aircraft and its crew on H24 alert for the public service search and rescue mission.